Poly Track Takes on NYSAIS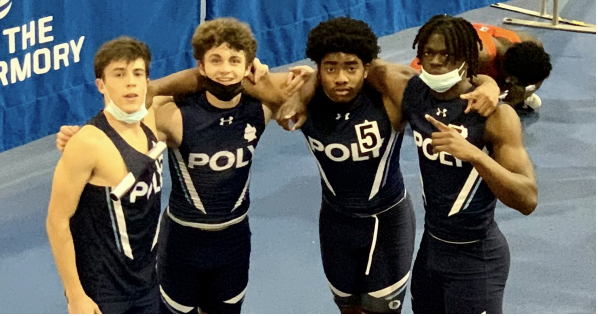 This year Poly's Indoor Track team produced amazing results at the meets they competed in throughout the winter season, with a multitude of the team's members qualifying for the NYSAIS Championships. On February 25th, the team made its way to the New Balance Armory in Manhattan and placed third overall in the competition.
Senior Samantha Chiaino placed top 10 in the girls 300m dash and 3rd in the 55m dash, coming in at 7.72 seconds in the finals. In an interview with Chiaino about her experience at NYSAIS she said, "I think it was very challenging getting back into a competitive state after not having a season last year, but that made it so much more rewarding when I did well in an event."
Freshman Jack Bogner came in third for the 55m hurdles, finishing in 9.19 seconds, and junior Theodore Drye and freshman Kofi Rossi crushed the competition, placing first in the 300m and 600m dash at NYSAIS, respectively. Both boys competed at the New York State Championships on March 5th.
Rossi has proved to be a very impressive athlete, having competed in the Junior Olympics last summer, and being ranked nationally in his respective events. He noted that, "NYSAIS is great, and everybody there is fun and great to compete against." He added, "I thought that there would be faster people in my events, but I guess I'll wait until outdoor nationals."
Rossi said he used to do track with a club. "The dynamic while competing was really toxic," he said. "At NYSAIS, when you're on the track you are representing your school. I feel that at Poly the environment is very healthy."
Our long distance competitors also gave it their all and placed well in their respective races. Sophomore Jack Ryland placed 4th in the 1600m.His brother, eighth-grader Sam Ryland, competed in the middle school division at State Championships and placed 4th in the 1000m at NYSAIS. Team captain Brianna Kwan competed in the girls 55m hurdles, and praised Sam, sayings she's, "so proud of our 8th grader Sam Ryland, who got 2nd in the 8th grade mile at nike nationals and 1st in the youth nationals."
Additionally, freshman Isabella Leyton placed in the top ten for the girls 1500m and 5th in the girls 3000m, the longest race offered for girls competing.
Senior Spencer O'Connell placed 2nd in the Boys' Long Jump , and senior Tamia Dubidad represented Poly skillfully in the girls' high and triple jump, placing fourth in both events. Sophomore Chantal Guthrie, along with junior Justin Mondesir, dominated the competition in the boys and girls shot put with Mondesir placing first  and Guthrie placing second. Mondesir also placed first in the boys' weight throw, allowing both athletes to compete in the State Championships.
Last but not least, Poly's boys 4×400 relay team, which consisted of freshmen Kofi Rossi and Jordan James, and juniors Theodore Drye and Fox Kloske, came in first at NYSAIS, finishing in 3:43.77 seconds. Poly's girls 4X200 relay team had senior Samantha Chianio, as well as juniors Brianna Kwan, Atiya Pope and Mia Edwards, competing. They came in second, finishing in 1:55.57 seconds. Both teams qualified for and represented Poly at the NY State Championships on March 5th.
Freshman Jordan James shared his thoughts and experiences from being on the track team and competing at NYSAIS. James said he has had to deal with the expectations that come with being Poly's beloved Coach Richard James' son. "[I was] not very experienced in Track & Field, so my initial thought of the competition was horrible. I thought everyone was going to beat me, and because I do happen to be Coach James' son, I also thought I was going to be a huge disappointment," he said. "When I actually went to the track meets, my performance was way better than I thought it would be. I also placed really well compared to my initial thoughts."
James also spoke positively about the team environment stating, "the track team is an amazing team, all the people are extremely welcoming. Even if you come in with no skill, you'll leave way better than when you came. The coaches work very well with each other, and they all have fun personalities. On the track team, everyone is there to see you succeed."
As the team prepares to head into the outdoor season, captain Brianna Kwan views the team's success in NYSAIS as an accomplishment that "really sets a strong mindset for outdoor season." She is especially hopeful for the future of Poly's track and field team since "there are a lot of underclassmen (who) are so willing to grow by consistently coming to practice." Kwan encouraged more Poly students to join the track team emphasizing that "there are no downsides" especially if "you play another sport and want to improve your athleticism."
Leave a Comment