Poly Welcomes New Latin Teacher, Petra Laohakul
Other People Stories to Read
From the hallowed halls of Princeton University to the greener pastures of the Lawrenceville School, Petra Laohakul has devoted much of her life and education to studying the Latin language. After teaching at two boarding schools and a charter school, we welcome her to Poly.
Laohakul's Latin career began in the seventh grade at Hunter College High School.
When describing her initial motivation for learning Latin, she said, "I remember choosing Latin for the easy way out… and I fell in love with it. I studied Latin every year from seventh grade until senior year of high school."
Following high school, Laohakul majored in Classics at Princeton University and then went on to teach at Phillips Exeter Academy and the Lawrenceville School after deciding that teaching Latin was what she wanted to do.
After teaching for a year at the Lawrenceville School, Laohakul decided to pursue her master's degree at Hunter College.
She moved back to Queens and began teaching at the Williamsburg Charter High School in Brooklyn as a part of her master's degree program. However, after a couple of months, Laohakul realized that it was not the right environment for her and started working at the Brooklyn Academy of Music.
Although Laohakul took a break from teaching Latin, it was through Hunter College that she was informed of the position at Poly, as newly appointed Upper School Dean and former Latin teacher Runako Taylor also attended and therefore looked to the program as a way to find potential teachers.
When talking about discovering the position at Poly, Laohakul said, "I think this is fate. It felt like fate."
Even though losing Taylor as a Latin teacher was difficult for both students and faculty alike, Laohakul and the Poly community seem to be adjusting well to her new role.
Junior Talisha Ward said, "I really enjoy Ms. Laohakul. The Latin experience has always been great but she gives it a new flavor. I'm loving her."
While classmate and fellow junior Isabel Schnipper said, "She is a great addition to the classroom and I've really enjoyed having her as my teacher these past couple weeks."
Chair of the Classics Department Anthony Gini is equally enthusiastic about the addition of Laohakul to the teaching community.
Gini said, "I'm so glad that we were able to find Ms. Laohakul, especially on such short notice. She's an amazingly talented Latinist, with a wonderful personality and enormous energy. Her students have already made a strong connection with her, and already she seems to have fit in perfectly."
Although she is still rather new to the Poly community, Laohakul has already discovered a few things about the school that she really likes. She said that one of her favorite things about Poly is "the fact that my lunch is prepared for me."
Additionally, she said, "I also think that the community is really friendly and I felt very welcome when I first got here and I think I got a really good vibe from the school."
About the Contributor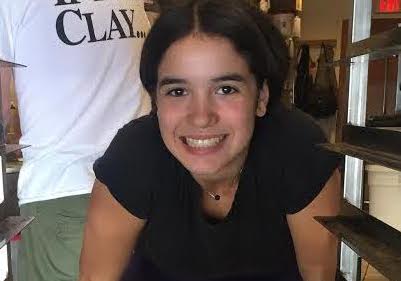 Billie Koffman, Editor in Chief
Billie Koffman '19 is a junior and the Editor in Chief of the Polygon. She has previously been the Managing Editor and was also a staff writer. Outside...