A Shell Full of Love
Hang on for a minute...we're trying to find some more stories you might like.
It is with great sadness and heavy hearts that we must report the passing of Anton, the snail who resided in Upper School Deans' Coordinator Rita Lee's office. Anton passed away at around 3:30 after classes on January 8, surrounded by those whom he loved most: Lee and the seniors that lounge in her office.
Senior Blythe Poor, who was there at the time, said of his passing, "It was a beautiful last moment with him. I wish him the best in snail heaven." Senior Maddie Draper agreed: "Heaven gained another angel."
Many underclassmen did not know Anton, but he was a celebrity in the senior class. His fame is partially due to the popularity of his housemate, Lee, but Anton was a star in his own right, gooping slowly up and down his iconic glass vase that he called home.
"I had the incredible opportunity of being able to name him with Ms. Lee's permission," said senior Jenn Babick. "This truly strengthened not only my bond with him, but with the whole grade once I put up a sign that listed his name and Urban Dictionary definition."
Indeed, the sign that Babick put up leaned famously against Anton's home, and summarized him as a character. It read: "Anton: The most flawless man on the planet. Anton is sweet, poetic, athletic, musical, funny, and hot. Best guy you could ever be lucky enough to know. Only idiots talk bad about Anton. Even his flaws are perfect." This quote effectively epitomizes Anton, humble yet outstanding in all of his endeavors.
Senior Caroline Coyer said that "Anton truly lived up to the name."
Many seniors began to see him as a necessary part of their routine, Coyer said of him, "I would say good morning to Anton every day when I came into the office. He was nice to have around and he was a nice addition to the Poly community."
For those who identified Lee's office as their hangout room of choice, Anton was far more than a decoration. He was a friend who had to be cared for, just as he cared for the senior class. Coyer said, "Being a snail, he was always calm, and I often worried that the office got too loud for him." However, despite how rowdy the seniors could be, and how much they may have jostled his home, Anton remained a beacon of stillness and serenity among his friends.
Dean Runako Taylor said, "Anton was a great-souled snail who was kind and courteous to a fault. He never wanted for anything, was loquacious and greeted so many with the standard 'side eye'. He will be missed."
Anton represented hope. Students enter Lee's office to talk about college, which is on the whole an unpleasant subject, but Anton's presence seemed to have a calming effect on all who entered.
"Anton was an ally, someone who would generally lift you up when you were down and someone who you would be comfortable to celebrate your achievements with," said senior Arman Kermanshah.
Because Anton was the first sight that a senior would see as they walked into Lee's office, they would immediately be reassured that no matter whether or not they received an acceptance letter in the mail, he would be proud of them. Anton showed this subtly by always remaining attached to the part of the vase that faced the students, showing them that, whatever the results, he was on their side. Seniors enter Lee's office with good and bad news, and Anton has responded to all with his same cheery look.
As Babick said, "He was our light in the dark times of the college process—and for that we will never forget him."
None of us ever will, as he became more than simply the senior class pet, he became the unofficial senior class mascot, and the unanimous senior class friend.
"Anton came to Poly to simply be a clean and quiet office mate for me. He didn't expect to find love or fame, but those two things found him within the first couple of weeks of school," Lee said. "Though his glass home is a bit empty now, I hope students will remember how much love once filled his bowl."
There is no better way to remember Anton than that: as a friend, a guide, and a snail with more love than could fit in his shell. We grieve his passing and will remember his legacy forever.
About the Writer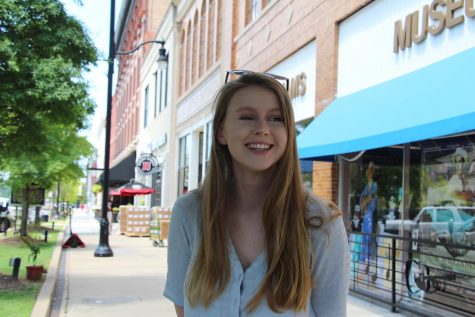 Esme Graham, Online Managing Editor
Esme Graham '18 is the current Online Managing Editor of the Polygon. She joined the Polygon the spring of her sophomore year as the News Editor. She...