Sarah Bates Slated to Be New "Head of Upper School"
Former History teacher and Upper School Dean Sarah Bates is not going far from her current office; in fact, her new position will allow her to connect with even more students in the Poly community.  
Next year, Bates will become the new head of Upper School and a new dean will be hired to take her place. When asked about her new job, Bates said, "My new position is to articulate, implement, and maintain a vision for the Upper School. I want students to invigorate their intellectual curiosity, have space and support to explore their interests, and, ideally, have fun while doing so."
Two years ago, Poly launched its new dean program, which was designed to create better student-teacher relationships. Five different faculty members were chosen to assume the new roles and among those chosen was history teacher Ms. Bates.
Two years later, Bates has worked independently with students and aided many in the stressful college application process. She has built many strong and long-lasting relationships with her cohort members and wishes to continue this next year.
"My work as a dean is almost entirely one-on-one conversations about decision-making and helping students to learn more about themselves, how to use their strengths to overcome their challenges, and develop a sense of empathy for others and self-love for themselves," Bates said.
Before having her own cohort and becoming a dean, Bates was a ninth and tenth grade World History teacher. "There are many things I miss from the history classroom," Bates said, "[which include] cultivating a group dynamic with students over the course of the year [and] watching you all evolve your critical thinking skills with a deeper understanding of how the discipline of history can inform your understanding of the world."
Many of her students were sad to see one of their favorite teachers leave the classroom, but she was able to remain close to them after taking on a new position.
Now, many feel the same way about becoming the head of Upper School; however, Bates has assured that it will have the opposite effect. "One of the most exciting elements about my new position is that I will be able to connect with all Poly Upper School students, not just those in my cohort," she said.  
Bates is honored to tackle her new job next year, and she has been working towards this promotion for many years.
"I am most excited to connect with the entire Upper School student body and faculty, support your needs in and out of the classroom, and help ensure that Poly is not only a place where you find challenge but also a sense of joy and fun. I look forward to working with each and every one of you to uphold what we already love about Poly – the tradition, the community, the beautiful campus – and work to find solutions on what we know can be better. I'm extremely goal-oriented and will ask you all to share with me your needs and desires for the best high school experience you can imagine. Sky's the limit!"
About the Contributor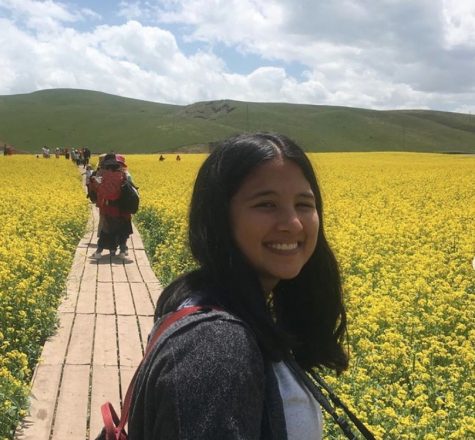 Honor Seares, Editor In Chief
Honor Seares '21 is currently one of the Editors in Chief for the Polygon. She started writing during her freshman year and then earned editorial positions...