Foreign Pop Culture in the Classroom
On January 26th, my sister and I sat down to watch the 2020 Grammy Awards. Since both of us sing in a chorus and are interested in music, we never miss this annual event. To my surprise, Spanish singer Rosalía performed two of her hit songs. To my sister's surprise, I knew the words to the songs in a language I never speak outside of the classroom.
My Spanish III class listens to pop singers like Rosalía and others to learn the current culture of those places. We sometimes also watch TV shows which originated in Spain. No, not shows like Narcos, which are specifically geared towards American viewers, but shows like Elite, whose intended audience is teens in Spain.
Watching foreign media allows us to learn about a culture that we likely wouldn't get from our textbooks. In Elite, a Muslim student, Nadia, struggles with Islamophobia at her new posh private school. The interactions between her and her peers are reflective of the issue of immigration in Southern Europe because currently, many Muslim families are fleeing from Middle Eastern regional conflict to these areas. My teacher, originally from Spain, explained to us that the dynamic between Europeans and immigrants is changing due to the influx of people arriving from other countries. Conflicts between different groups are now becoming commonplace.
By watching these shows and listening to foreign music, we can better understand the culture of the areas we learn about. Also, watching these shows taught me how to speak in a more natural dialect rather than the robotic Spanish taught by American textbooks.
I've seen firsthand the positive effect that foreign media has had on children and teens. My good friend Eugenia grew up in Athens, Greece and has lived there all her life. Since my family is Greek, we go there over the summer to visit relatives, and I always see her on these trips. Every time she speaks in English, I'm amazed by how similar her accent is to that of an American, and she even uses some American slang. When I asked her how she speaks such perfect English, she responded that all of the Disney movies she watched growing up were in English, and all of the YouTubers she currently watches live in America. Being exposed to American culture from such a young age made her accent sound authentically American, and this will likely prove to be a useful tool in her future.
Foreign media is not as commonplace in America since we have a plethora of movies from Hollywood in a multitude of genres in our first language. However, by only watching American films and listening to American songs, we find ourselves stuck in a bubble, with very little understanding of everyday life and trends outside America.
Growing up, my father put on Aliki Vougiouklaki movies for me to watch. Vougiouklaki is essentially the Greek equivalent of America's Marilyn Monroe. Through these movies, I learned Greek humor and was later able to converse with native Greek speakers with ease. 
Now, in my Spanish class, I find the shows we watch and the songs we listen to extremely insightful because they enable me to learn and immerse myself in a culture 3,500 miles away.
Leave a Comment
About the Writer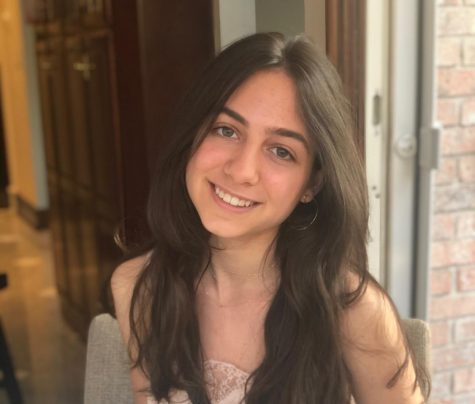 Thalia Glyptis, Online Managing Editor
Thalia Glyptis '21 began writing for the Polygon her freshman year, became the Opinions Editor in her junior year and is currently the Online Managing...