Q&A with the Deans: Emily Gardiner
When did you start working in education and how long have you been at Poly?
I came to the education field a bit late, after working in finance and film. I went to graduate school around the time I had my second child, and knew right away as a student teacher in the Brooklyn public schools that I was doing work I could commit my life to. I joined Poly as a maternity leave replacement in the English department in 2010, and then I stayed.
What drew you to the dean's position?
I was loathe to leave the classroom, but I had also been college counselor and dean for several years and loved it, and the new position meant a choice had to happen. Caring about Poly and admiring our spirit of self-examination and improvement were also huge motivations. Change and growth are so important for a school, or any endeavor, to be healthy and succeed. I wanted to be part of the experiment and give all I could to it.
What's your favorite thing about working with students?
My favorite thing about working with students: working with students. Seriously, that act is what motivates and delights me every day. To name why is a daunting task, but I love learning by getting to know other people, and I treasure the chance to help people notice and nurture their own talent, curiosity, and ambition.
What are your goals for this year?
To pour myself into doing a good job and still lead a balanced life.
How is high school different than when you were our age?
I don't know how even to begin describing the technology effect. I fear that I may not fully understand it for myself, let alone for today's high-schooler. My first email addresses were given to me at the same time, by my college when I graduated and my first employer. I communicated with friends and loved ones through letters. I still have some in a box in my basement, and that box overwhelms me with its emotional power every time I so much as think about it. When I left the house — for a night, a weekend, or a month at summer camp — it would have been highly unusual for me to call my parents even once. When I sat down to read, write, draw, do a math problem, watch a movie, the only distractions available came from my own head and the physical environment around me, so I tended to immerse in those things far more than you (or I) do now.
What's your favorite hobby?
I love to knit. I try to write whenever I can, but working involves so much writing energy that I have trouble finding more.
What's the best piece of advice you've ever been given?
Listen first, then speak.
What 3 words would your best friend use to describe you?
Hardworking, effusive, and a bit of a know-it-all.
About the Contributor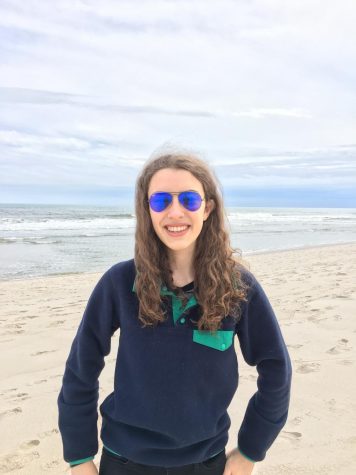 Maddie Winter, Editor-in-Chief
Maddie Winter '18 is the current co-Editor in chief of The Polygon. She started writing for the Polygon in her sophomore year and became the Managing Editor...