Artist in Residence: Sarah E. Brook
When Director of Arts Research Robert Aberlin came across Sarah E. Brook's public art project in the New York Times, he invited her to come to Poly as an artist-in-residence. 
Aberlin said, "One of the purposes of Poly's Art Outreach Initiative is to engage our students and greater Poly community with working artists and observe the creative process." He continued, "As we looked at various artists we came across Sarah Brook's work and the three of us were immediately attracted to her use of light and space in her work. It seemed like a natural new approach to our 25 acre campus which is bathed in the sun."
Brook constructed a sculpture called "Viewfinding" in Riverside Park. She put out an open call for queer-identified poets to submit their work and selected 26 of them to feature. 
"It was meant to use the literal visibility of the structure to make queer voices more visible and present in that public space," she said. "We had a poetry reading for the opening and gathering with a bunch of folks. It was very cool to have such a public space to bring together all those people." 
Originally, the plan was for Brook to install her project at Poly in April. There was going to be a big closing party in May. She met with Head of Arts Michael Robinson, Coppola, and Aberlin to develop initial ideas. Poly closed its campus in March due to COVID-19. However, Brook will continue her project whenever Poly re-opens. The plan is to create multiple sites: a long-term outdoor sculpture as well as short-term installations throughout campus. 
Visual Arts Department Chair Laura Coppola said, "It's been such a pleasure and a learning experience to help coordinate Sarah's residency. Not only is she an absolutely lovely human being, but her work fuses geometric abstraction and reflections on the landscape and identity in ways that I think are really provocative."
Brook spent the first half of her year-long residency meeting with different groups at Poly. Her goal is to find out what places at Poly are particularly meaningful and gather a sense of character of the school. Important aspects so far have been the Verrazano and the arches in the tower. 
Coppola said, "Her conversations with students and faculty have, I hope, opened up a window in our community in regards to how artists think, practice, and create, and how the technical and the conceptual work together. I can't wait for the spring when we can all see the artworks that she makes for our campus."
Brook grew up in Nevada and often used the desert as a place of healing. She said, "The desert was a place where the vastness and the expansiveness was really helpful for me when I was a young person and when I was coming out and trying to figure out queer identity and gender expression and all of these parts of me that felt like they didn't fit in the confines of my community, which was super conservative. The desert was a space of external vastness and expansiveness that by spending time in I could internalize and then feel like that spaciousness within me allowed me to interact with different parts of myself in ways that allowed me to figure out who I was, outside of these really rigid constructs in the community where I was." 
Now, she often goes on residencies in the desert and makes short-term installations. Brook then documents the photos.
"In some ways they're like abstracted self-portraits." she said. "A lot of what I think about now is how do I translate the experience of vastness that I encountered in the desert into galleries and parks in the city so that people can have access to that feeling of expansiveness without the literal huge spaces. So using color gradients, layering, and light in my installations in galleries and things here to try to bring some of that sense of spaciousness." 
Although Brook took a lot of art classes, she did not major in art. She is a licensed social worker and practices psychotherapy. She said, "I felt like there are really big problems in the world that needed attention and that giving my time to art felt frivolous in a way, for awhile. Because there are people starving and suffering and that's more important. So I did that for quite awhile. And then I realized that I was pretty unhappy and unfulfilled. There was a part of me that I wasn't taking care of that really needed to have space. That was the part of me that makes art and needs that for my own self expression."
Now, she balances her time between individual therapy sessions and creating art. She said, "I'm thinking about how to help people access a part of themselves that is less rigidly defined or more open and expansive. That happens through my therapy process too so it feels like there's an integration there."  
Brook said, "[My work] is about creating the opportunity to experience an expanded self of self, whatever that means. I think about perception a lot and how, when we approach something, all of the senses that are working to tell us what it is and liking to create work that has a kind of spaciousness within it so that it sort of disrupts what we expect to see or what we think we're going to see or what we think something is going to be so that we can have a new experience. So that it feels like there's more possibility, there's more spaciousness."  
About the Writer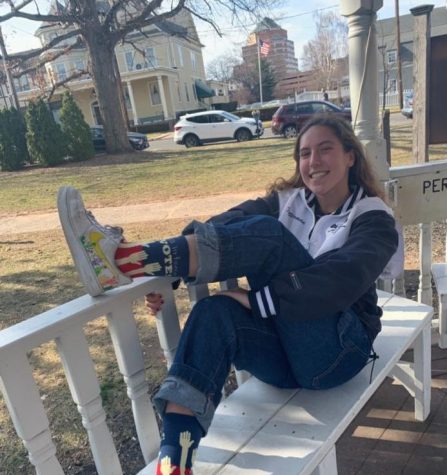 Katie Futterman, Editor in Chief
Katie Futterman is one of the Editors in Chief of the Polygon. She started writing in freshman year and was the managing editor her junior year. Outside...