Middle School Schedule
Now that almost every member of the Poly community is vaccinated, COVID restrictions are getting more and more lenient, so certain aspects of school have returned, somewhat, to their original pre-COVID forms. In Middle School, one part of everyday learning that differs from last year is the schedule. Last year, due to social distancing regulations, advisories stayed in the same space every day. The teacher either taught virtually through a TV in the classroom or found their way to the students' designated room to teach. This meant there was no running to different classes in different classrooms or classes with other people. In addition, last year the schedule ran Monday through Friday rather than the seven-day schedule we have this year. The seven-day schedule has brought both negatives and positives to middle schoolers, and students have very mixed emotions about the new structure. 
The Cons: Unlike the standard Monday through Friday schedule, the seven-day schedule is hard to keep up with. Each week or day can be very unpredictable because you have to track what day you were on in order to know what classes you have the following day. Holidays and breaks make it even harder to keep track of what day you're on because they can throw the whole week off. It is also very hard to organize with seven-day rotations. When you are trying to schedule meetings with deans and advisors, you do not know which days you have a free period without checking your schedule to figure out what day you will be on. You would have to align whatever you need to schedule with the seven-day rotation, which can be tedious and even more difficult if there is a holiday or day off that week.
The Pros: Even though a few negatives come with the seven-day schedule, there are many positives. One is that homework spreads out because of the way that the seven-day rotations are structured. With most classes taking place four times out of every seven days, students will rarely have the same class on back-to-back days. This means that there will not be tons of homework that needs to get done every single night. Furthermore, an even distribution of the classes means that students do not have to carry too many materials every day, which is very important because students do not have lockers this year. The mixture of the lengths of classes is also one aspect of the schedule that is very beneficial. The fact that there are 70-minute and 45-minute blocks means that there are fewer classes every day than last year, resulting in less exhaustion at the end of the school day. The seven-day schedule also allows students to develop planning and organizational skills that will be very useful in the future throughout their educational and working careers.
Overall, the new schedule impacts the Middle School in both negative and positive ways. But no matter what, students need to stay organized, be intelligent, and know what is best for them.
Leave a Comment
About the Writer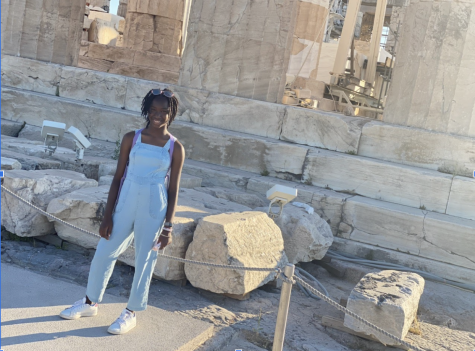 Brianna Sylvain, Middle School Editor
Brianna Sylvain '27 started as a contributing writer for the Polygon in the sixth grade and now is one of the middle school editors for the Polygon....