Judge Jackson Makes History
Following the retirement of U.S. Supreme Court Justice Stephen Breyer, President Joe Biden began the extensive process of finding a replacement candidate. Then, on Friday February 25, 2022, the President officially nominated Judge Ketanji Brown Jackson to the Supreme Court. On April 7, 2022, Jackson was confirmed, becoming the first ever Black woman to serve as a Justice. 
In his search for a proper candidate, according to the White House official website, Biden wanted someone who not only had an excellent law practice resume but also great character –– Jackson meets both of these requirements. Born in Washington D.C. and raised in Miami, Florida, Ketanji Brown Jackson attended Harvard University for both college and law school, where she was a supervising editor of the Harvard Law Review. She has been serving on the federal bench for over nine years, first serving in the U.S. Court District for the District of Columbia for over seven years after being nominated by former President Barack Obama. In June 2021, after being nominated by President Biden, she joined the U.S. Court of Appeals for the District of Columbia Circuit. 
In nominating Jackson, Biden was also fulfilling his promise to nominate a Black woman to the bench. Out of all 115 who have served on the Supreme Court, only three of them have been people of color, and only five have been women. When introducing Jackson at the White House, Biden stated, "For too long, our government, our courts haven't looked like America. I believe it's time that we have a court that reflects the full talents and greatness of our nation with a nominee of extraordinary qualifications, and that we inspire all young people to believe that they can one day serve their country at the highest level." 
According to CNN, on Monday, March 21, 2022, the confirmation for Jackson officially began. The hearings, led by the Senate Judiciary Committee, were set to last a total of four days. Jackson was to give an opening speech on Monday, and then take questions from law officials during Tuesday and Wednesday. On the last day, the Senate was to hear from two panels of witnesses regarding Jackson's confirmation. After a week, the committee was set to hold a vote, and if approved, it would immediately go to the Senate for final approval. Because of Jackson's impressive and expansive law career, it was intended to be a smooth process, but in reality, as various news outlets reported, it was far more challenging. 
Although Judge Jackson was praised by Democrats, very few Republicans in the Senate supported her. According to New York Times coverage, during her confirmation hearings, Jackson was constantly scrutinized by conservative officials who attacked her background and past rulings. However, the majority of the Republican questions seemed meant to discredit Jackson. For instance, Ted Cruz, the Senator of Texas, boldly accused Jackson of being lenient with sentencing for child sex offenders, stating, "I believe you care for children, obviously your children and other children, but I also see a record of activism and advocacy as it concerns sexual predators that stems back decades, and that is concerning." Other questions and assertions that were brought up seemed irrelevant. South Carolina Senator Lindsey Graham asked Jackson, "What faith are you, by the way?" despite previously assuring her that no senator would ask where she attends church. 
As the questioning continued, attacks were made on Jackson's career and character. Eventually, even Senator Cory Booker spoke out on her behalf, stating that "It's hard for me not to look at you and not see my mom, not to see my cousins –– one of them who had to come here and sit behind you," Booker said. "She had to have your back. I see my ancestors and yours."
In spite of the hardships present during the confirmation hearings, on Thursday April 7, 2022, Judge Ketanji Brown Jackson was officially appointed Supreme Court Justice, making history as the first Black woman to serve. The final vote was 53-47. Judge Jackson will assume office at the end of the court's term in June or July, when current Justice Stephen Breyer will be stepping down. "I hope to inspire people to try to follow this path because I love this country, because I love the law, because I think it is important that we all invest in our future," Jackson said during her confirmation hearing. "The young people are the future. And so, I want them to know that they can do and be anything."
Leave a Comment
About the Contributor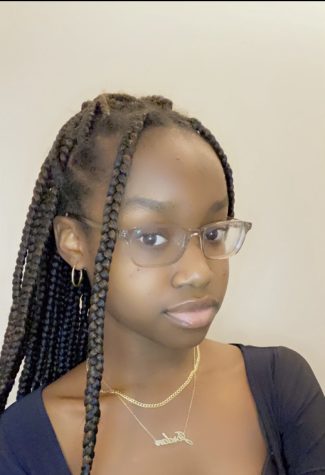 Jordan Millar, Managing Editor
Jordan Millar '24 is currently one of the Managing Editors of the Polygon. She began writing as a staff writer during her freshman year and joined the...