New Koi Fish Bring Beauty to Poly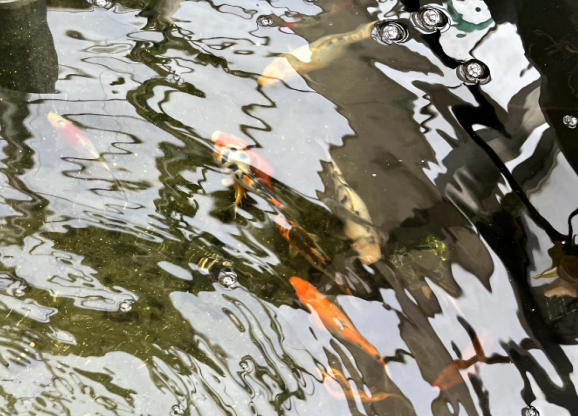 Recently, Security Guard James Catapano and Science Teacher Christan Morehouse added multiple koi fish to the pond inside the greenhouse. Morehouse helped set up the pond, and Catapano traveled far to obtain these fish.
Over the summer, Catapano decided to share his love of fish with the Poly community by generously donating multiple to the school. He said he wanted to create a more peaceful environment for students by bringing together two things he loves: Poly and fish. It took two trips for Catapano to obtain these fish. The first trip was to a neighborhood pet store, where he got the small koi fish, and the second trip was to Pennsylvania, where the bigger koi were imported from Japan. 
Catapano decided to donate the fish because he "felt like here at Poly, we focus on a lot of sports, and the Science Department didn't have stuff you could see, like fish tanks." Catapano also hopes that the fish will help students feel more comfortable in the school environment and create a safe space in the greenhouse. 
In the future, Morehouse would like to extend the community's engagement with the fish since they aren't currently being used. Morehosue said that "originally, I was hoping to do something like catfish or tilapia, which are both edible fish." By having these koi fish in the greenhouse we also use a system that is in place that turns fish waste and turns it into compost to grow our own lettuce or plants. 
Similarly, Catapano would like to add more fish species, and with permission from the Science Department, clean out the ponds on campus and let the fish live there instead. The goal moving forward is to move the fish to the pond in hopes that if they mate, they and their offspring will have more space.
The fish are currently still in the greenhouse tank, and anyone is welcome to stop by to see them. Catapano said he "hopes it brings something beautiful to Poly."