Baehr Exits, Stage Left
Poly's faculty is constantly changing as old teachers leave and new teachers join our community.  This year, we are losing our beloved leader of the theatre, Sonya Baehr.
Baehr has had a long legacy with Poly, beginning in 1975 when her husband, Thomas W. Jones, became the Head of the Arts department. In 1990, with her husband's help, Baehr began Poly's now well-known performing arts summer program.
At this time, however, one was not permitted to work with their spouse, so Baehr took advantage of a part-time position but still remained primarily a faculty wife. While working in this position, Baehr recognized a lack of a middle school performing arts program at Poly and quickly began the Middle School Drama Program.
After accomplishing the incredible feat of creating an entire program from thin air, Baehr went on to direct her first upper school show, a translation of a French Molièr play named Le Bourgeois Gentilhomme.
In 1997, Baehr's husband took a different job, and, as she was an already essential part of the Poly community, she was promoted to Head of the Arts department.
Baehr says that she loves working at Poly because of the opportunity to have a nearly professional theatrical experience. Poly's range of professional lighting, sets, choreographers and pit players creates production values of the highest levels.
Baehr also appreciated the way in which Poly's geographical location, a New York hub, further enriched the program. Since many Poly families appreciate good theatre and are actors and playwrights themselves, Baehr has had the opportunity to work with numerous well-known members of the theatre community.  
For example, she worked with Meryl Streep and was even able to perform Streep's play Mother Courage before it was officially published. Additionally, she worked with Audra McDonald, who helped Poly kids put on an amazing production of Ragtime.
She notes that the most important part of working at Poly is the talent and the passion of the students within the theatre program. She is thrilled to have been able to send numerous students to performing arts colleges such as TISH, Boston University Conservatory, and Northwestern.
Baehr has always had an amazing vision for the performances she creates. Last year's musical, Pippin, demonstrated this to the highest level.  With Poly's support, she took her concept of a circus-themed show to the next level by hiring an expert in circus technique. The show was a work of art, featuring trapeze, silks, and many more amazing tricks.
Baehr also teaches Poly's public speaking, acting, and intro to acting classes. Baehr loves teaching public speaking because she is able to give students skills that are vital to their daily life in the years to come.
Despite her love of Poly, she has decided to leave and to take up the position of Vice President of the IDEA organization. IDEA stands for International Drama/Theatre and Education Association. They advocate for theatre education as a basic right for children. Theatre is a valuable way of teaching that allows students to use intellect, body, and emotions as one cohesive unit.
In Baehr's own words, "Theatre is an essential topic that teaches people empathy and communication skills and how to work together as a communicative group."
Also, she plans on becoming a bicoastal woman as she wants to visit her grandkids in California much more often.
She says, "I am really going to miss not only the students but also my colleagues. They're just such interesting people who do amazing things in and out of school, and it's enriching to be a member of that kind of community"
Baehr is an essential part of Poly and she will be dearly missed.
About the Contributor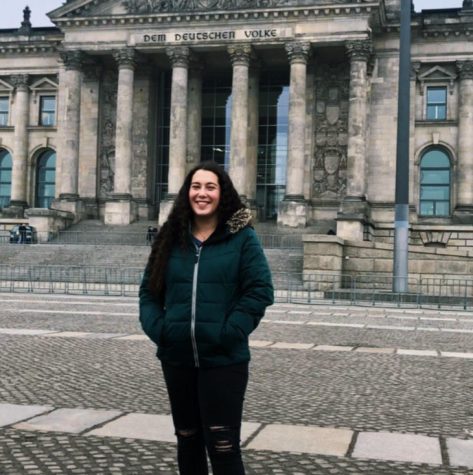 Elizabeth Bentsianov, Editor in Chief
Elizabeth Bentsianov '21 is one of the Editors-in-Chief for Polygon this year. She began writing as a staff writer during her freshman year, became the...